Saturday, 03 August 2019 11:38
KAMPALA - Development partners and the top leadership of the Justice Law and Order Sector (JLOS) in Uganda have held a high-level policy dialogue to discuss the developments and challenges in delivering justice and rule of law in the country.
The head of the European Union (EU) delegation to Uganda, Ambassador Attilio Pacifici, chair of the Development Partners Group (DPG) of JLOS hosted the policy dialogue at his residence in Kololo under the auspices of the JLOS Leadership Dinner.
JLOS top leadership present included Chief Justice Bart Katureebe, Justice Minister Maj. Gen (rtd) Kahinda Otafiire, Attorney General William Byaruhanga and previous DPG chair Netherlands Ambassador to Uganda, Henk Jan Bakker.
Although it was a closed-door meeting, New Vision has learnt that the JLOS development partners and top leadership exchanged views on topical issues on the rule of law and delivery of justice in Uganda.
Published: August 3, 2019
Wednesday, 03 October 2012 08:47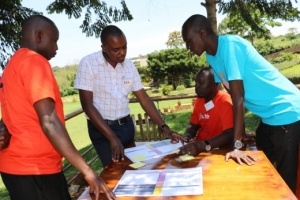 This is the Committee comprised of all heads of institutions- who are ultimately accountable for the delivery of JLOS services in the country and is responsible for political leadership and guidance to the sector. It is responsible for the articulation of the JLOS Vision and Sector development policy. The Leadership committee is comprised of the following officials:
The Honorable the Chief Justice (Chairperson)
The Honorable Principal Judge
Minister of Justice and Constitutional Affairs (MoJCA)
The Honorable Attorney General
Minister of Internal Affairs
Minister of Finance, Planning and Economic Development
The Minister of Gender Labour and Social Development
The Minister of Local Government
Minister of State for Internal Affairs
Minister of State for Justice/Deputy Attorney General
Director of Public Prosecutions
Chairperson of the Uganda Law Reform Commission
Chairperson of the Uganda Human Rights Commission
Chairperson of the Judicial Service Commission Chairperson
Steering Committee-(ex officio)
Chairperson Technical Committee-(ex officio)
Senior Technical Advisor- JLOS Secretariat – (ex officio)
The Leadership Committee may co-opt any institution(s; individuals; Development Partners or Non State Actors as deemed necessary to their meetings. The Leadership Committee will determine its rules of procedure. The Leadership Committee meets a minimum of two times a year.